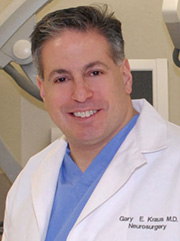 Gary Kraus, MD
Neuro Surgeon
Doctor Gary Kraus is the Founder of the Kraus Back and Neck Institute (KBNI) in Houston, Texas. He is Board Certified by the American Board of Neurosurgery, is Fellowship trained, and recognized as a top Houston neurosurgeon by his peers and patients.
Dr. Kraus has special expertise in the area of non-surgical and minimally invasive Treatments of spinal problems. Although he has performed thousands of surgical procedures, Dr. Kraus routinely treats pain patients without surgery. His patients find him to be approachable and his demeanor is kind and compassionate. Dr. Kraus has always held to a higher standard in patient care for which he receives many honors and awards.
Best Doctors in America Multiple years
H Texas Magazine; Houston's Top Doctors 2007, 2008, 2009, 2010, 2011
Newsweek Magazine
Featured in:

Best Neurosurgeons in Texas
Best Doctors in Texas
Neurosurgery Leaders in the United States
Commitment to Serve
In addition to his practice, he holds several faculty appointments in Houston.
Clinical Assistant Professor
Department of Neurosurgery
University of Texas Medical School at Houston
Chairman
Department of Neurosurgery
Memorial Hermann, Memorial City Hospital
Medical Director of Neurosurgery
Memorial Hermann Northwest Hospital
Medical Director of Neuroscience
Medical Director of Gamma Knife
West Houston Medical Center
Academic Career
He attended Renssalaer Polytechnic Institute in Troy, New York and graduated Cum Laude with a Bachelor of Science degree in Physics and Electrical Engineering. He was elected into Sigma Pi Sigma, the National Physics Honor Society. Dr. Kraus earned the distinction Doctor of Medicine at State University of New York at Stony Brook School of Medicine in Stony Brook, New York. Thereafter, he completed Residency in the Department of Neurological Surgery under the tutelage of Kenneth R. Smith, Jr., MD at St. Louis University School of Medicine in St. Louis, Missouri. Further, Dr. Kraus completed a Neurovascular and Skull Base Surgery Fellowship under the guidance of Robert Spetzler, MD at Barrow Neurological Institute in Phoenix, Arizona.
Society Memberships
Dr. Kraus is an active member of many prestigious organizations: American Medical Association (AMA), American Association of Neurological Surgeons (AANS), National Physics Honor Society (Sigma Pi Sigma), North American Spine Society (NASS), and Texas Medical Association.
Dr. Kraus' research is published in books and leading peer-reviewed journals. Further, he presents his papers at society meetings. In addition to his research contributions, Dr. Gary Kraus is an inventor and has patents pending related to spinal instrumentation and devices for improving minimally invasive spine surgery.